This feature allows you to authenticate your domain with ViralSweep, so that we can send emails on your behalf as a verified sender. This will improve your email deliverability and help to ensure that emails do not bounce or end up in spam folders.
Setup
This feature is enabled on a per campaign basis, so you can authenticate as many sending domains as you would like within your account.
To authenticate, go to:
Edit > Advanced > Sender Authentication

Once you input the email address you want to send from, click Authenticate Domain.
You will be provided with several records you need to add to your DNS host. Once you add them, click Verify Domain to make sure the records were successfully added.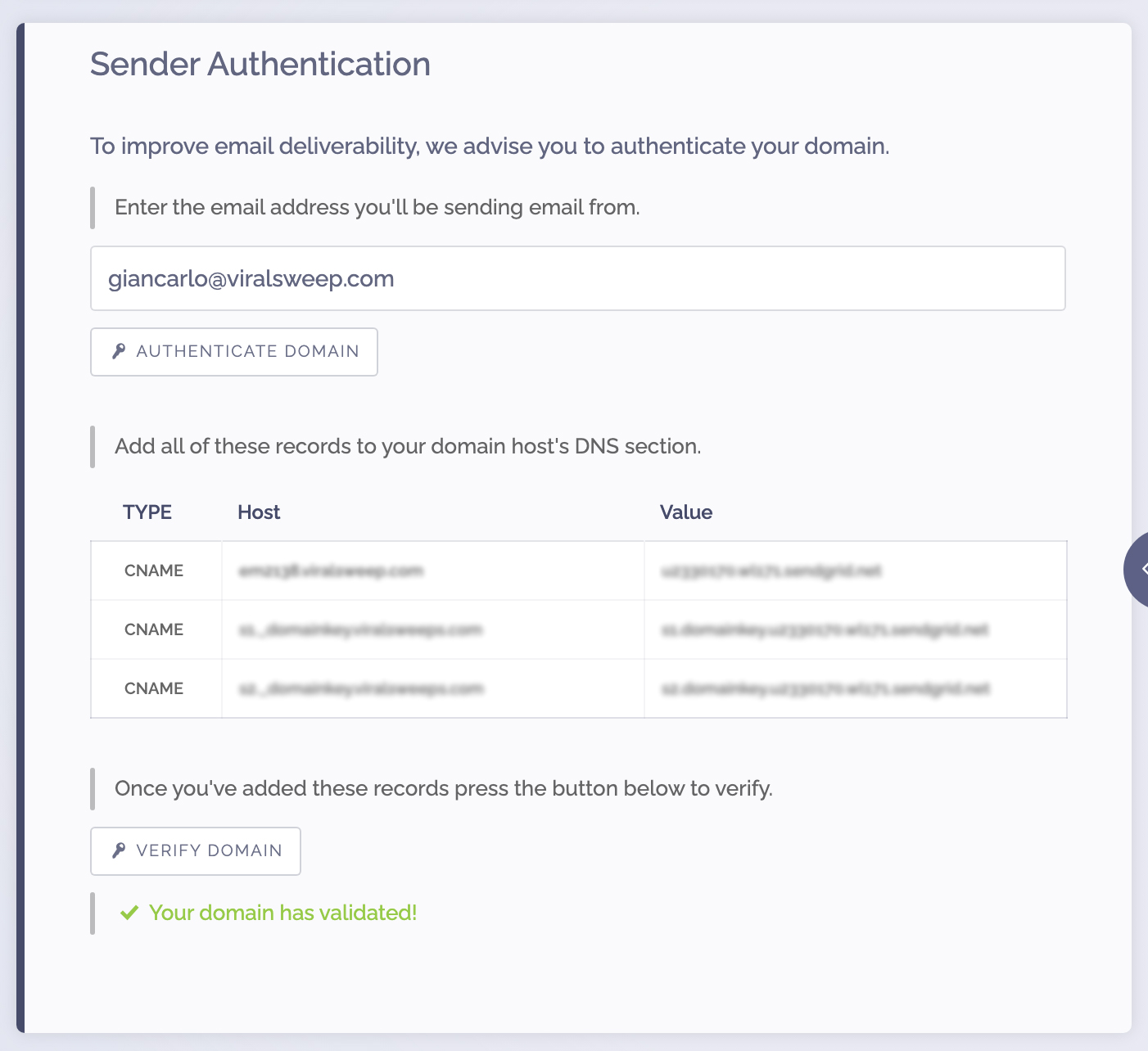 TIP
If you use Godaddy, Amazon, Namecheap, or other similar providers, they will automatically add your domain to your new DNS record values, resulting in a CNAME entry with too much information that fails authentication.
An example of this would be em123.yourdomain.com.
Be sure to check your CNAME for this behavior if your domain doesn't validate initially.
Below is an example of the CNAME values under the HOST column as they are displayed and how you will need to enter them into your DNS management with one of these providers:
HOST/NAME: em123.yourdomain.com
ENTER CNAME RECORD HOST/NAME AS: em123
HOST/NAME: s1._domainkey.yourdomain.com
ENTER CNAME RECORD HOST/NAME AS: s1._domainkey
HOST/NAME: s2._domainkey.yourdomain.com
ENTER CNAME RECORD HOST/NAME AS: s2._domainkey
Entries made in the VALUE or POINTS TO field do not need to be changed.
Troubleshooting
I'm trying to verify my domain but it is not working.
Check to make sure you've properly input the values that we have provided. If the values are correct, make sure your DNS host does not format values in a different way. See above TIP section.
Can I use a gmail, hotmail, or yahoo address?
No, you must own the domain that you want to verify.
---
We're here to help
If you have any further questions, please start a Chat. Just "Click" on the chat icon in the lower right corner to talk with our support team.