The Refer Friends feature encourages people to share your promotion with their friends via a unique referral link in order to earn bonus entries. When a user enters your promotion, they will see the Refer Friends box which allows them to copy their referral link to share manually with friends, or there are a variety of one-click actions they can take to share their link to social, email, and via SMS.

Setup
To add the Refer Friends action to your promotion go to:
Edit > Post-Entry: Social Actions > + Add Action > Refer Your Friends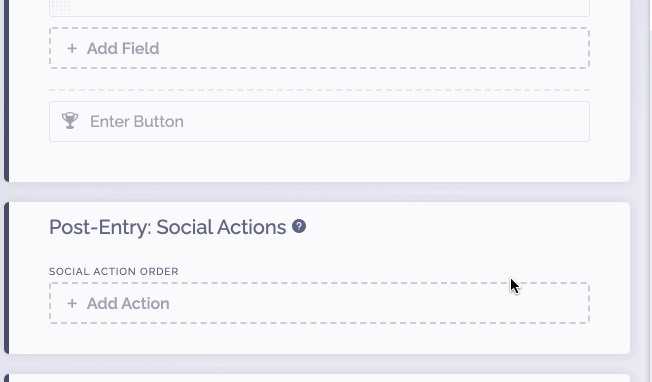 First, you can change the default text we use for the action under the action title and subtitle fields. Next, you can change the number of bonus entries awarded per referral, and you can cap the total amount of referrals a user can earn (if you do not cap it, then the default is unlimited).
Next, you can choose which one-click actions you want to allow people to share to. We automatically load the referral URL into action. You have the option of:
Email: Opens the default email client on the users device and the user will manually send the email.
Facebook Share: Allows user to share to their Facebook page.
Twitter Tweet: Allows user to post a tweet to their Twitter page.
LinkedIn Share: Allows user to share to their LinkedIn page.
Pinterest Pin: Allows user to share to their Pinterest page.
Facebook Messenger: Allows user to share the campaign with friends via Facebook Messenger.
SMS: Opens the default SMS app on the users device with a pre-written message. This option only shows up on mobile devices.
Whatsapp: Opens Whatsapp on the users device with a pre-written message.
Telegram: Opens Telegram on the users device with a pre-written message.
FAQ
Does a user get bonus entries every single time they invite a friend?
No, users do not get bonus entries simply for sharing or inviting people. This is strictly referral based, so the user can only earn a bonus entry when the friend that they invite clicks on the link they receive and enters the promotion.
Is there a limit to the number of referrals someone can receive?
By default, we leave referrals set to unlimited. You can cap referrals if you would like by modifying this when configuring the settings on the action.
We're here to help
If you have any further questions, please start a Chat. Just "Click" on the chat icon in the lower right corner to talk with our support team.