---
Our Business Plan allows (3) hashtags to be tracked. Our Premium Plan allows (6) hashtags to be tracked. For additional hashtags, please contact us.
---
Use our hashtag feature to collect hashtag entries from Instagram and Twitter for your promotions.
You can accept hashtag entries for sweepstakes and contests, where you accept entries through both our entry form or via hashtags.
If you want to run a hashtag only contest with no entry form, then use the hashtags app.
Our Hashtag feature gives you the ability to choose the media type that must be submitted (like photos, videos, or just text) and then display that media in a gallery.
Requirements
Limitations
We can only pull in public posts from Instagram and Twitter.
Hashtags are not supported on reels, or stories.
Hashtags from Twitter can only be fetched from the previous 7 days. Fetching tweets older than 7 days is not supported.
Usage
To configure the hashtag feature, simply go to:
Edit > Hashtag Entry > + Add Hashtag.
Choose to connect to either Twitter or Instagram.
Then input your hashtag, choose the dates to start and stop importing hashtags, and select which media types you want included with the hashtag.
Once you save the hashtag, we will automatically begin pulling hashtag entries on the indicated start date, and we will automatically stop pulling hashtag entries on the indicated end date.
Please note: It can take up to 1 hour for hashtag entries to appear. We do not display hashtag entries in real-time.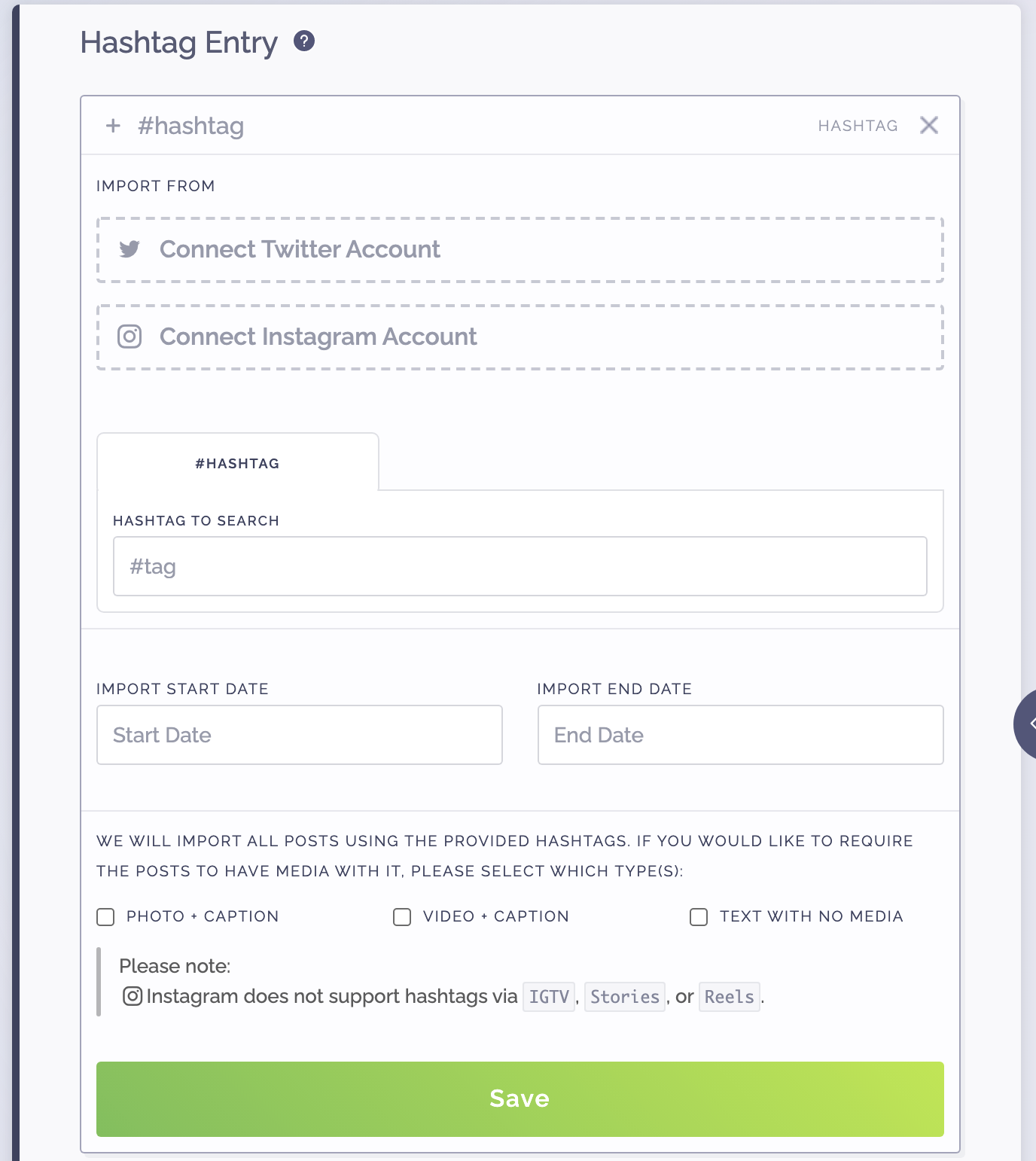 Troubleshooting
I am seeing an error after connecting to my Instagram page
If you are using an Instagram Business account that is connected to a Facebook page and the hashtag you indicated has posts within the timeframe you set, then your Facebook token may have expired for our app. To fix this, simply go here: Facebook Settings and remove the social promotions app. Then go back into ViralSweep and try connecting to Instagram again.
FAQ
I want to use hashtags for entries but I'm not sure if I should set it up under sweepstakes or contest or hashtags. Which is best for me?
If you want to collect photos and videos of people using your hashtag, without having an entry form, then use the hashtag option. If you want to collect photos and videos through an entry form, but also have people enter via a hashtag, use the contest option. Only use the sweepstakes option if you want to draw people at random as winners who entered via a hashtag.
Can I collect entries via your form and also collect entries via a hashtag?
Yes! However, when you collect entries via a hashtag you only get the username of the user (Twitter only, Instagram no longer provide usernames but just a link to the post in which you can then see the username), a link to their profile, the photo or video they submitted, along with the caption/comment -- you do not get any information such as name and email address.
Some users hashtag submissions are not appearing, why not?
If a users profile is set to private, we cannot pull in their hashtag submission. In addition, if a user has submitted a hashtag submission, then deletes their post, we will no longer be able to display the submission within ViralSweep.
Where do I view the hashtag photos and videos?
If you set up a hashtag contest, these can be viewed by logging into your account and going to Entrants > Moderate.
---
We're here to help
If you have any further questions, please start a Chat. Just "Click" on the chat icon in the lower right corner to talk with our support team.