---
This feature is only available on our Business Plan and higher.
---
If you have not done so, be sure to read our detailed blog post on this feature: Facebook Lead Ads Integration with ViralSweep

1) Create your Lead Ads
Within your Facebook Ads account, you will want to setup your lead ads that will pertain to the particular promotion you will be running through ViralSweep.
Simply indicate which fields you want to use on your Lead Ad form, and you can link the Lead Ad to point directly to your own website or to the promotion after the user completes the ad.
2) Connect your Lead Ads to ViralSweep
To complete the connection within ViralSweep go to:
Integrations > Facebook Lead Ads.
Login to Facebook and agree to the prompts.

A dropdown menu will appear with your pages. Select a page.

Your Lead Forms will appear. Check off one or multiple Lead Forms that you want to use. Click Connect.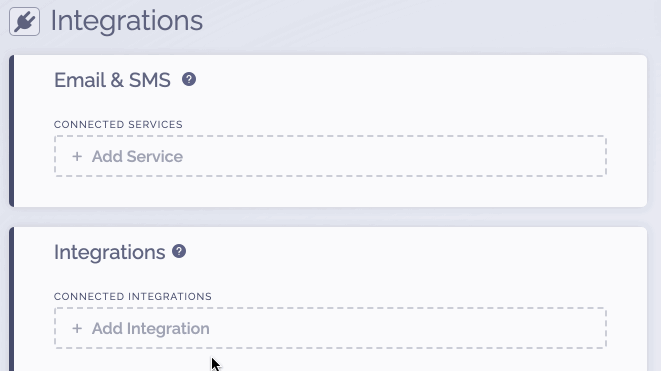 3) Test Your Connection
Now you will want to test your connection to make sure the data will properly pass through.
Go to the Facebook Lead Ads Testing Tool and do the following:
Choose your page, then choose the lead form you connected to ViralSweep.
Click on "Delete Lead" (don't worry it is not deleting any live leads)
To the right side of the form name, click Preview Form.
Fill in the fields if they are not already filled in, and submit the form.
In ViralSweep, click the Entrants tab on your promotion and see if the lead you submitted shows up. The location will show as FB Lead Ads.
4) You're connected
If you've successfully tested your connection and the lead shows up in ViralSweep, then you're all set! Any leads that come through your Lead Ad Forms on Facebook will appear in ViralSweep.
---
FAQ
What fields do you collect from Facebook Lead Ads?
Name*
First Name
Last Name
Email Address
Phone Number
Zip Code
State
Country
Birth Date [MM/DD/YYYY]
*The full name field will pass the entire name into the first name field in ViralSweep, and the last name field will be blank.
How does your spam filter work with FB Lead ads?
Our spam filter recognizes that the entries are coming from Facebook Lead Ads and it is disabled for those entries that come in. There is no need to worry about entries from Lead Ads being blocked.
How does the [AUTO_LOGIN_URL] work?
If you use our email notification feature on your campaign, you can send an email to the entrant coming from your Facebook Ad. The email will include a special link that when clicked, recognizes the user entered the campaign already and it shows them the post-entry page.
---
Troubleshooting
If you're having issues with our FB Lead Ads integration, below are some of the most common problems:
I can't select my Facebook page
If you're trying to connect to Facebook through our Lead Ads integration but your Facebook page is not appearing, this means you are likely not an admin of the page. You must be an admin of the page for us to pull in the page for you..
There are more leads showing in Facebook Ads Manager than in ViralSweep
If you are running several similar ads with different lead forms at the same time, it is possible the same person filled out both ads, which are going to two different lead forms. For example, if you have 3 ads in Facebook connected to 3 different lead forms, and all those forms are connected to 1 ViralSweep campaign, then you may see a discrepancy because someone could have completed more than one of your ads with the same email address, but ViralSweep will only accept the email address one time.
Example: Jim sees your ad on Facebook and fills it out. Facebook Ads manager shows you have 1 lead, and ViralSweep shows you have 1 entry. The next day, Jim sees another one of your ads you are running and fills it out. Facebook Ads manager shows you have 2 leads (1 for each ad), and ViralSweep will still show you have 1 entry.
Leads are not passing through to ViralSweep
If you've connected a campaign to ViralSweep and you are receiving leads in Facebook from your Lead Ads but they are not appearing in ViralSweep, there is likely a connection problem. Edit your campaign and delete the integration, then reconnect to the Facebook page and choose the correct lead ad form. Next, go to step 3 of these instructions and complete a test to ensure the data is passing through to ViralSweep.
The full name is showing up in the first name field
If your Lead Ad is using the "full name" option, then we will pass the entire name into the first name field in ViralSweep. You can change your Lead Ad to use First and Last Name instead and we will properly pass them into the First and Last Name fields.
Certain fields did not pass through to ViralSweep
We can only pass information from Lead Ads that maps to ViralSweep's preset fields which currently includes: Full Name, First Name, Last Name, Email, Phone, Zip Code, State, County, and Birth date. If you are using any other fields, especially custom fields, that data will not pass through to ViralSweep but you can still export it from Facebook.
---
We're here to help
If you have any further questions, please start a Chat. Just "Click" on the chat icon in the lower right corner to talk with our support team.