ViralSweep supports contest voting, so users can vote on submissions within a gallery. We offer two forms of voting, a public vote, or a restricted vote that requires email address and or name.
Public Vote
This is based on IP address only.
Restricted Vote
This is based on IP address and collecting information like name and email. You can also enable a verification code that a user will receive via email and must input in order to confirm their vote.
Setup
To modify your voting settings go to:
Edit > Gallery > Voting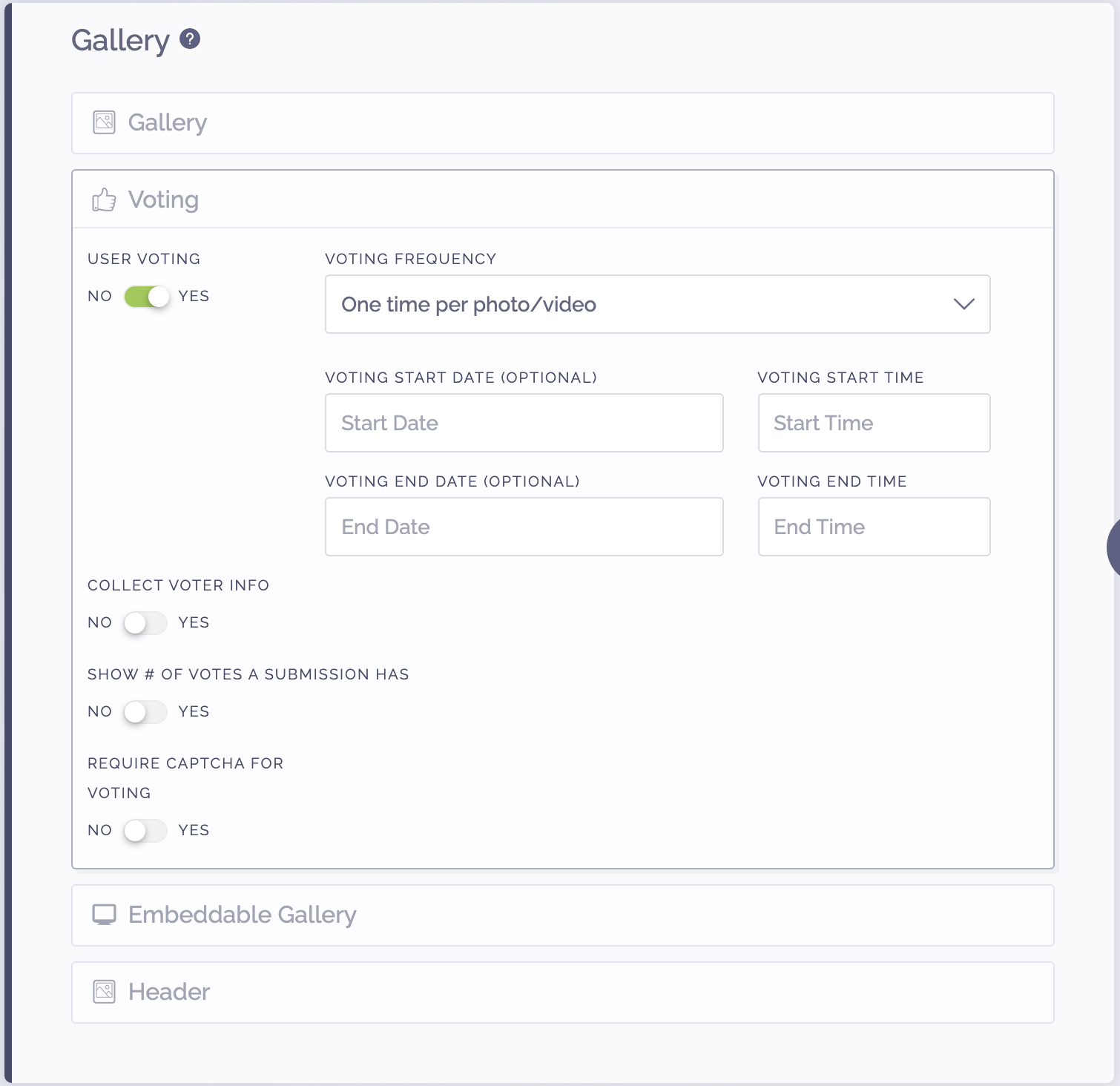 Voting Options
User Voting
Turn user voting on or off manually, or set automatic start and end times for voting. If you set start and end times for voting, the voting buttons will automatically appear and disappear based on the set times.
Voting frequency
We currently support the follow options for voting frequency:
One time only
One time per day
One time per photo/video
One time per photo/video per day
Event mode (one vote per device)*
Event mode (one for per photo/video per device)*
One vote per email (no IP check)
*Event mode is to be used for in person voting, where people are all voting from the same network or IP address. A typical use case is an internal company contest, and everyone is casting a vote from their own device at the office.
Collect Voter Information
---
This feature is only available on our Business Plan and higher.
---
By default, voting is a public vote based on users location, device, and IP address.
If you enable the Collect Voter Info option, you can collect a combination of email, name, and add an opt-in box. Voters will not be able to cast a vote without providing their information.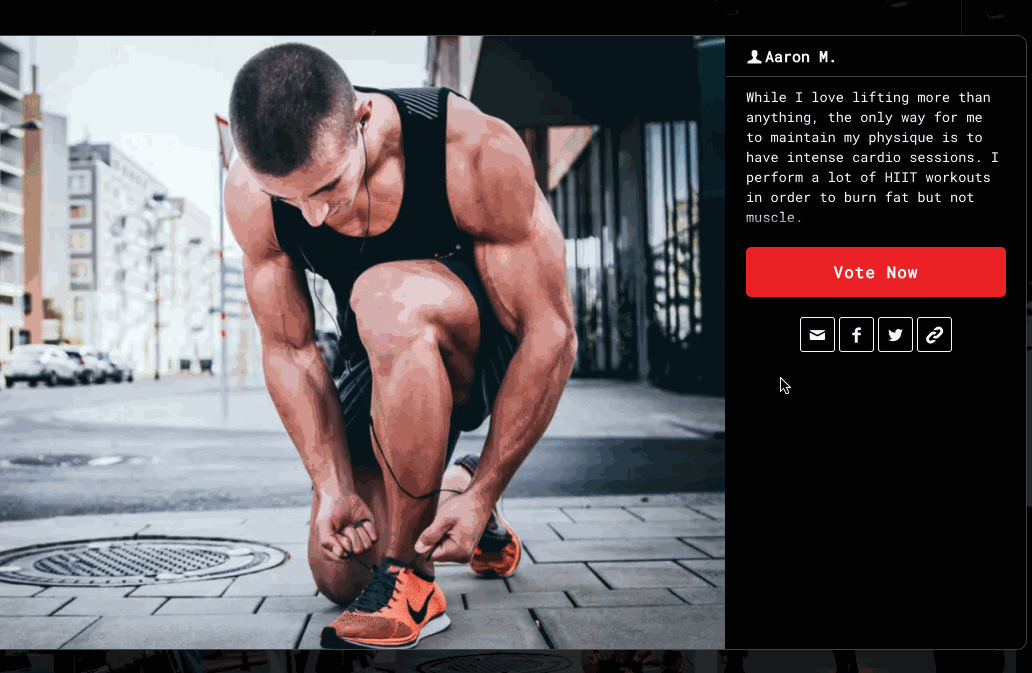 Voter Log
We provide all information collected for each vote, which you can find in your dashboard under:
Moderate > Voter Log (top right corner).
Show votes on submissions
This option allows you to show or hide the number of votes a submission has. If you enable it, the vote count will appear on the photo/video in the gallery, as well as on the zoomed view. We recommend hiding it to curb voter competition, and as the admin you can see all the votes in the backend.
Voting Protections
We offer several mechanisms for curbing the amount of voter fraud that occurs with contests.
If you are collecting voter information, we recommend enabling verification codes, which sends an email to the user with a code that they must input into the form to confirm their vote.
We offer captcha (if not using verification codes) that requires the voter to complete a captcha to cast their vote.
If you are on the Business Plan or higher, we recommend enabling geo targeting (edit > advanced > geo targeting) to lock down voting to specific states or countries.
We recommend hiding the number of votes each submission has, this way users cannot see how many votes they need compared to other submissions, which helps curb cheating.
The voter log under Moderate > Voter Log provides an overview of every single vote that has been cast. You can review these votes to find any patterns of cheating and remove them under the Moderate tab.
---
We're here to help
If you have any further questions, please start a Chat. Just "Click" on the chat icon in the lower right corner to talk with our support team.