Getting Started
Connect Posts
You can connect posts/videos from any page you manage on Facebook, Instagram, or YouTube. You can also connect multiple posts/videos from each network if they are all related to one campaign you ran. We automatically aggregate all comments from all connected posts/videos and add them as entrants to your campaign.
Please note: Your Instagram page must be an Instagram business page in order for us to pull in comments. If it is not an Instagram business page, you must convert it to one first. Learn more.
Select a page to pull posts from: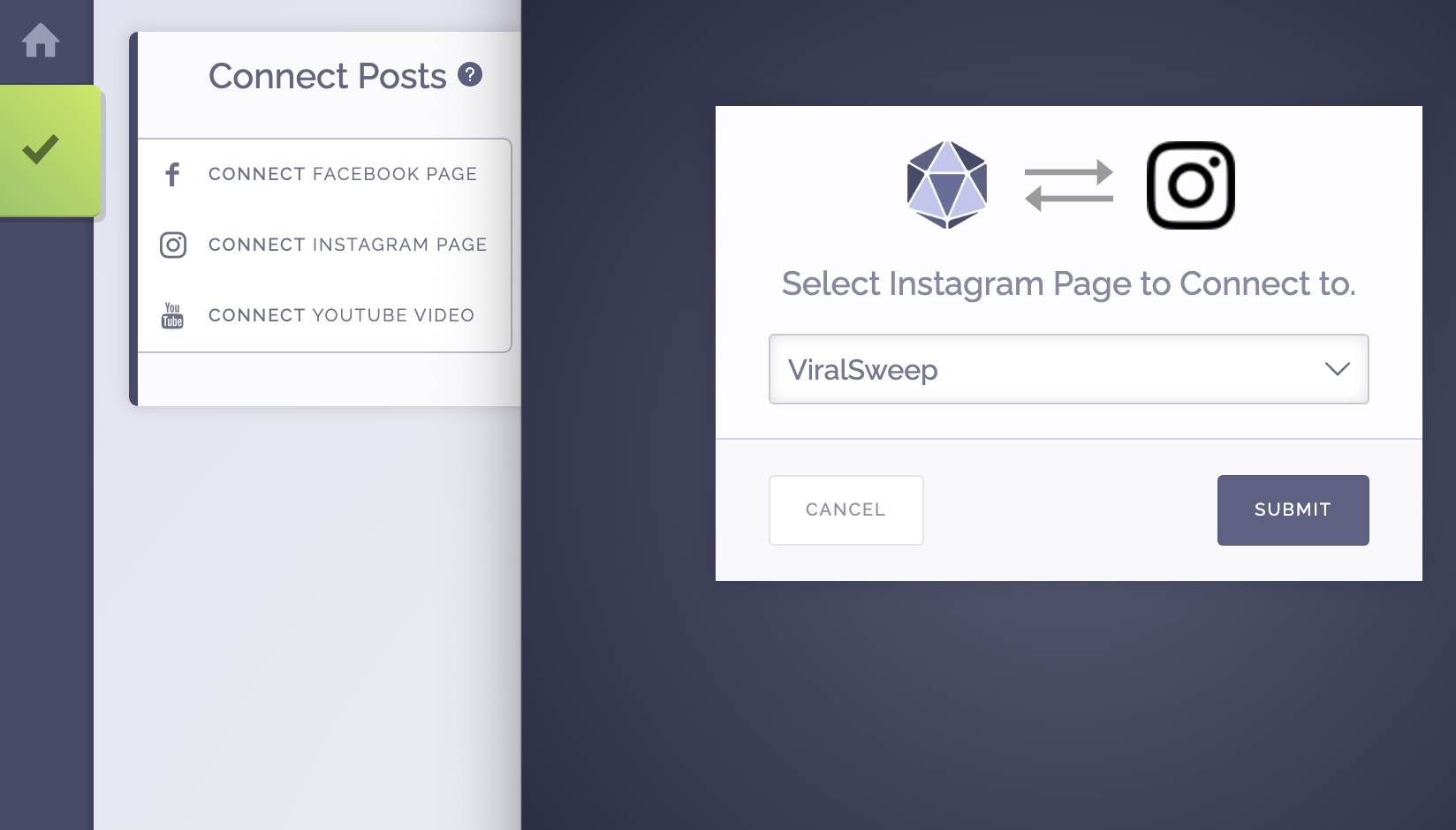 We will display the posts you can select. When you find the one you want to connect to, click Choose Post.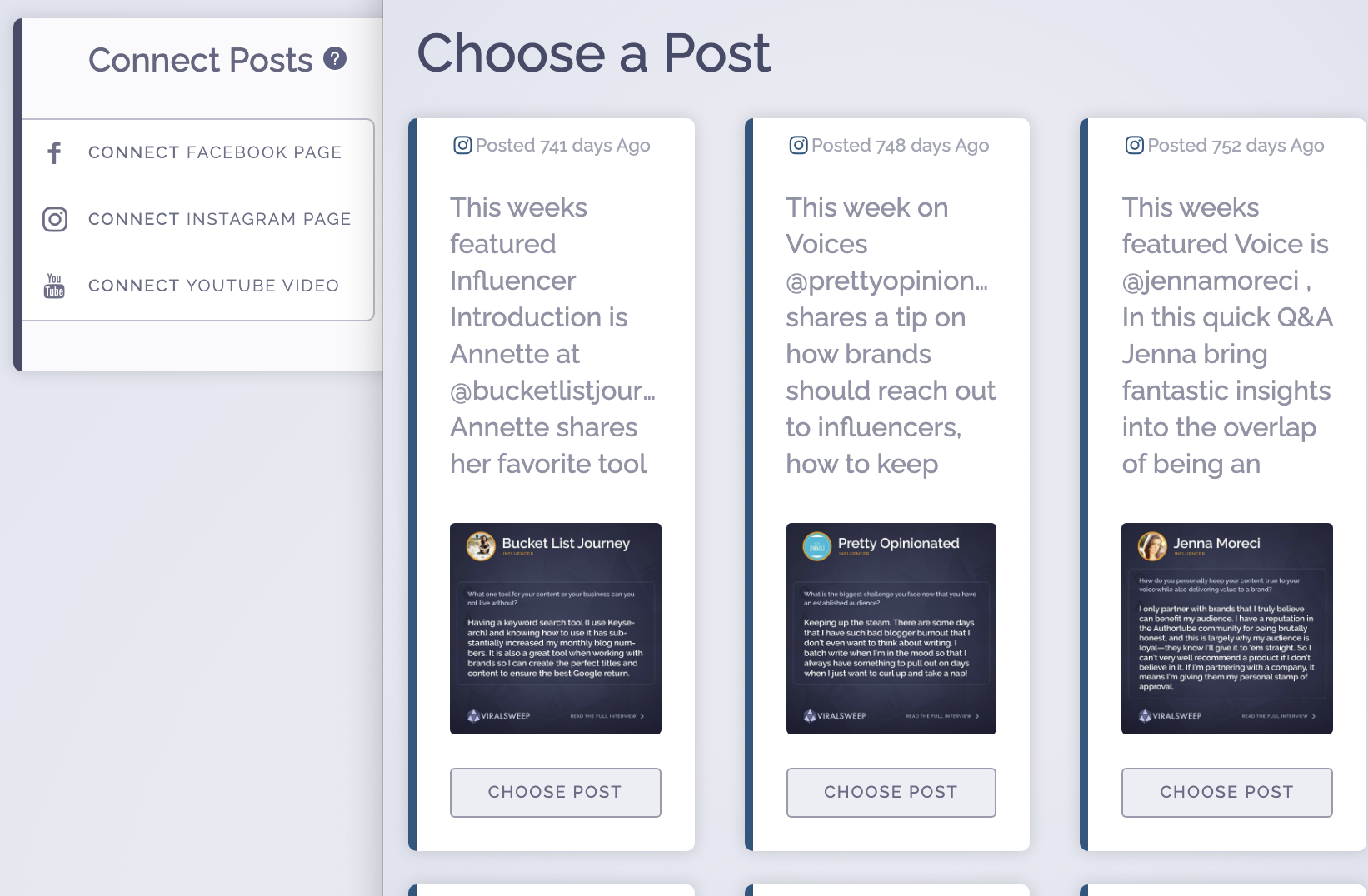 If your post was successfully connected, it will show under the Connected Posts section: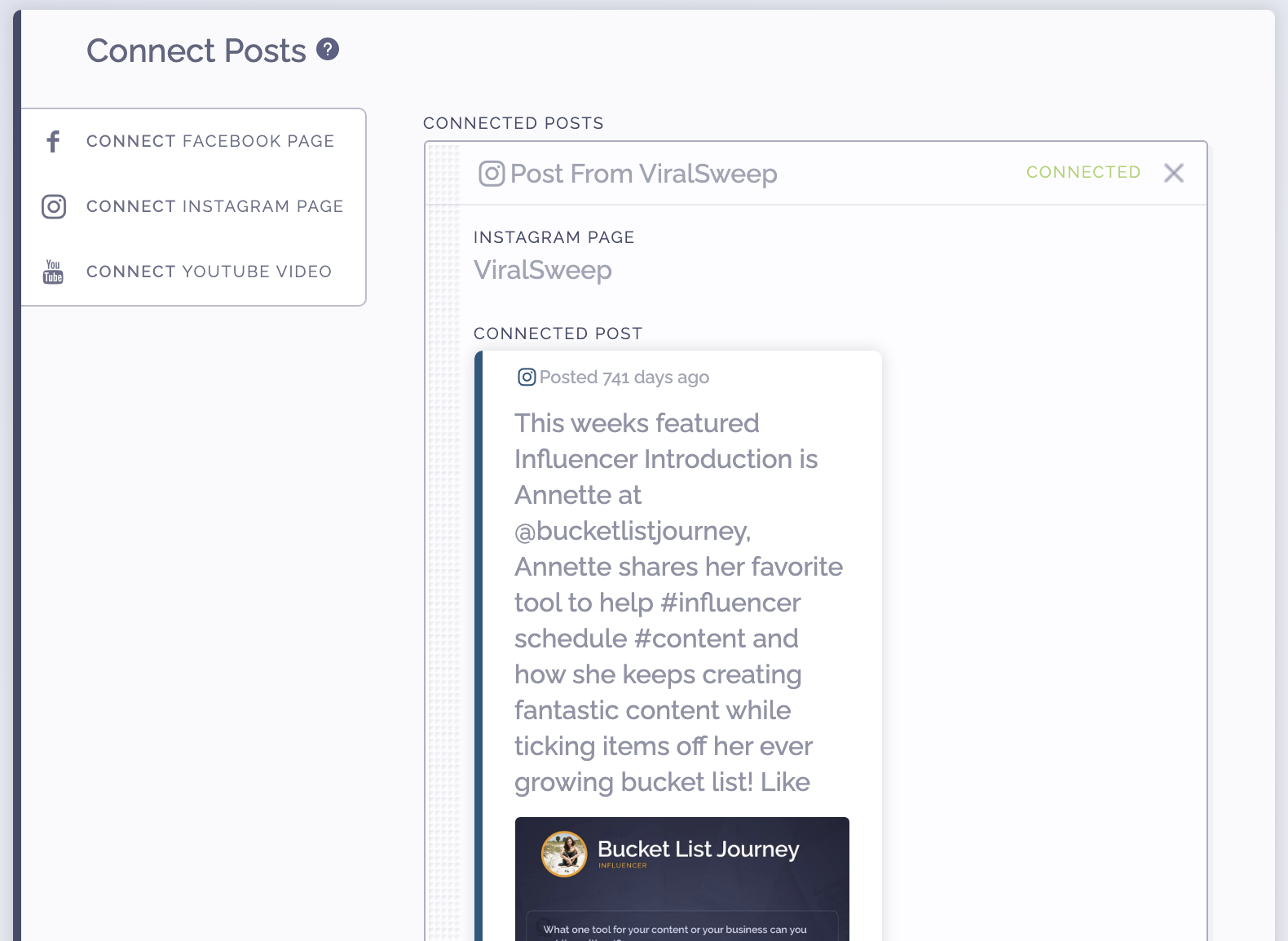 Promotion Settings
Duration
Next, choose the promotion duration by picking a start and end date, and a start and end time. Keep in mind, these times will tell the system when to start pulling comments and when to stop pulling comments. If your campaign has already ended, then be sure to put in the proper dates in the past so that the system pulls all of the comments on your posts.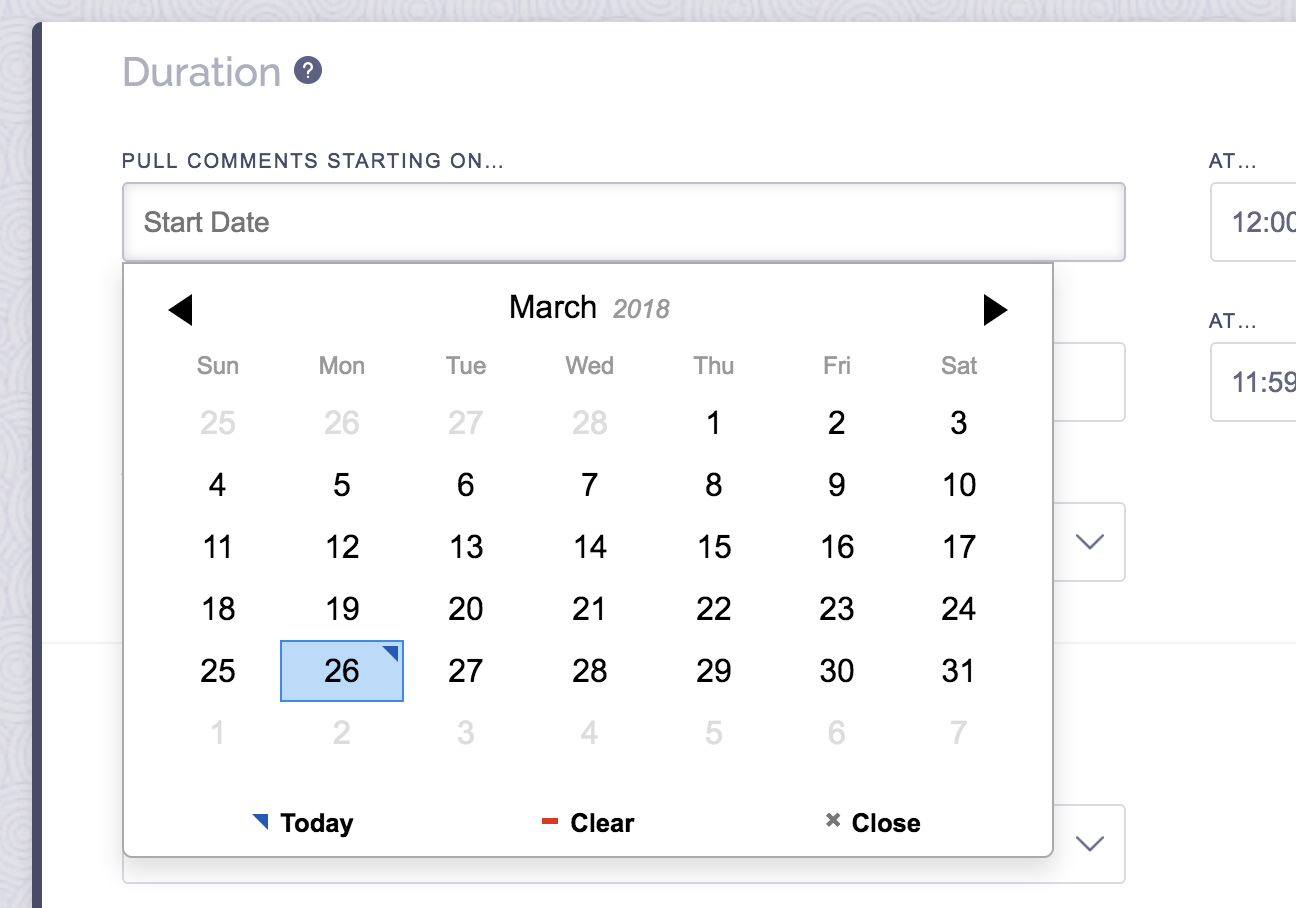 Entry Settings
If you would like each comment someone made to count as a new entry into the giveaway, then select yes. If you only want people to have 1 total entry regardless of how many comments they have made, select no. Learn more about entry settings.
Promotion Title
Name your promotion so you can distinguish it from the others. This title is used internally only and is not shown anywhere publicly.
Click Done and your campaign will now be set up.
Viewing Entries
To view the comments that have been pulled into the system as entries, simply click the Entrants button on your campaign. We will list out the name of the user based on their Facebook, Instagram, or YouTube handle, as well as directly link to the users page. Click the + icon next to their name to see the comments they left.
Please note: It can take between 5 minutes to 1 hour for all comments to be pulled into the system. If they are not immediately appearing, please wait a few minutes. New comments are pulled in hourly.
Viewing Analytics
Click the Analytics button on the campaign to see the analytics for the posts you have connected. Currently we will show you total comments as well as unique comments on each post.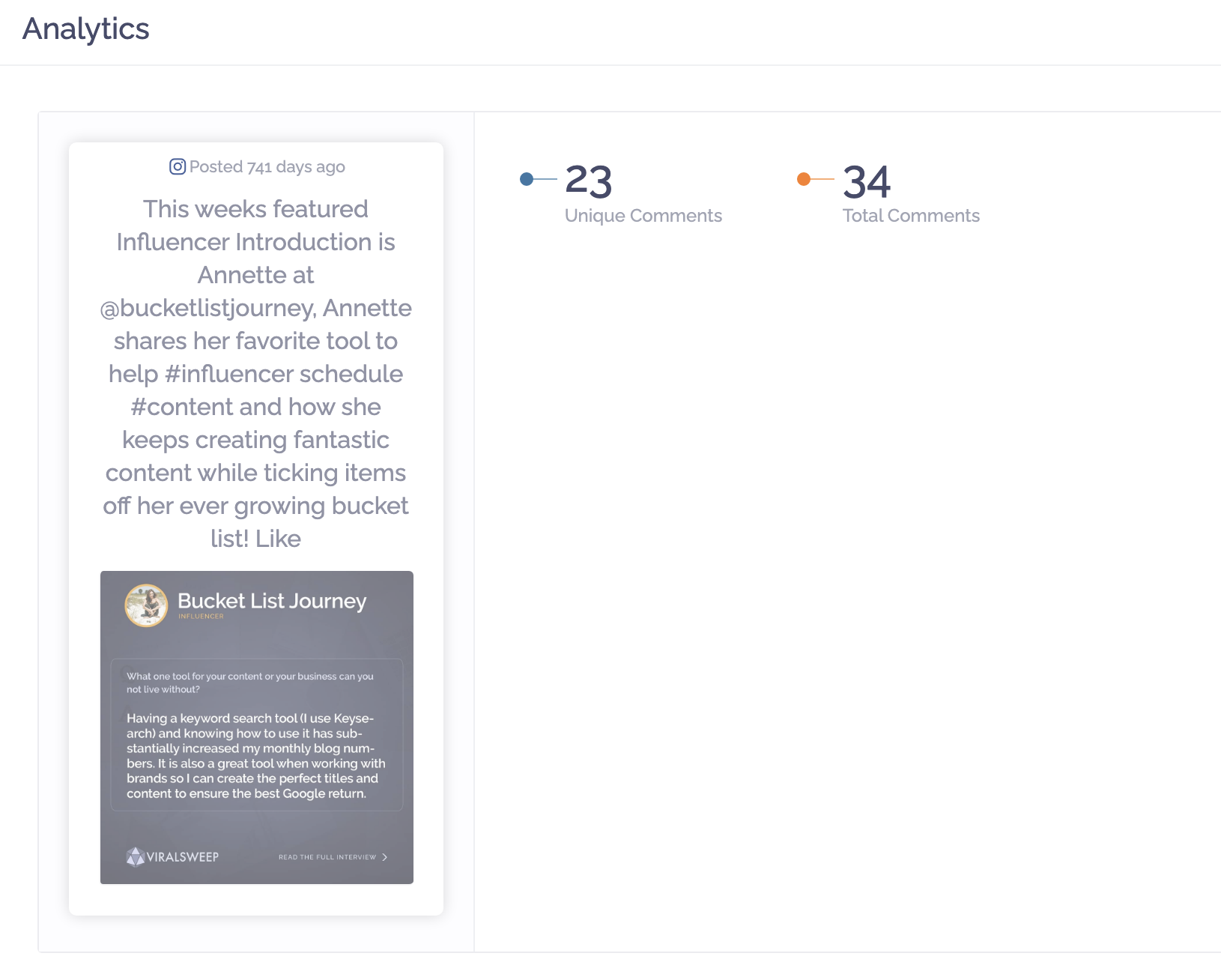 Draw Winners
When you're ready to draw winners, click the Winners button on the campaign. At the top, input the number of winners to draw and click Draw Winners. The system will randomly draw winners from all those who have posted comments.
We provide you with the winners social handle, as that is the extent of the information we have on them. You will need to reach out to the user directly on Facebook, Instagram, or YouTube to award them the prize.
Troubleshooting
I am not seeing any entrants after connecting my posts.
When you first connect your posts we will run an initial batch pull of all comments we can find on the posts. It can take between a few minutes up to an hour for all comments to load into your campaign. Any comments left on your posts after that initial pull will load in every hour. If no comments load in after several hours, please edit the campaign, disconnect the post and reconnect it.
I created a promotion but I am not seeing it.
If the start and end dates on the promotion are in the past, then we automatically mark the campaign as ended. Look under your ended promotions to find the campaign.
Some entrants have more entries than others.
If you selected the option to allow each new comment to count as a new entry, then some users will have more entries than others. If this was a mistake, change the setting, then disconnect your post and reconnect it. Learn more.
---
We're here to help
If you have any further questions, please start a Chat. Just "Click" on the chat icon in the lower right corner to talk with our support team.